Are you looking for fun and exciting events to go to during your au pair year in the Netherlands? Take a look at our blog about the LCC's and the events that we organize so you enjoy your stay, and make new friends for a lifetime!
What is an LCC?
An LCC is a Local Childcare Consultant who lives in the community. They support you during your au pair year. Our LCC's are 5 amazing girls who help us with organizing these fun events. They make sure that you have a good time, and get comfortable in the Netherlands!
Nanny Nina has chosen 5 LCC's in the Netherlands in different cities to arrange fun events for you every month! You can pick & choose which event you wish to go to – how fun is that!
Our coming events
You can check our up-to-date event calendar right here.
This is our amazing LCC team:
Laurie – Event Queen in Leiden
Hi! I am Laurie, 21 (almost 22) years old, and I was born in Doetinchem. 5 years ago I moved to Leiden to study biopharmaceutical sciences and I absolutely love this city. I wanted to be an LCC because when I moved here, we had introductory weeks to get to know the city and people, which helped me so much when moving to a new city.
I want to do the same for you as an au pair, plus I really like to meet new people. When I am not studying, I often go to the gym or play tennis with my friends. You can also find me in a park in Leiden when the weather is nice. I am looking forward to meeting all of you!
Cristina – Event Expert in Amsterdam
I'm your LCC during your time in the lovely city of Amsterdam where I hope you also fell in love with this city as I did one year ago. I came here from Spain (my country) because of a University exchange and right now I can just see myself living here. This month I'm turning 23 years old and I have just finished my Tourism and Event Management studies.
I decided to be an LCC because it's a great opportunity to learn how to organize events in real life but also because it's perfect to meet new people and support them in their beginning in a new city as I have been there too and some support is always more than welcome. About me, I'm a very cheerful and warm person. I'm sure we are going to create unforgettable moments together. A fun fact about me is that
I can't live without music, so at any given time you can find me singing or dancing!!
Mia – Event Warrior in Amsterdam
Hi Everyone!
My name is Mia, I am a 20-year-old university student from Estonia. I have been living in the Netherlands for a year now and I absolutely love it here! Furthermore, I work as a recruiter in NannyNina and apart from that, I am also part of the LCC team this year.
I decided to become an LCC as I love organizing events and helping people create worthwhile memories!! A fun fact about me is that I enjoy skiing a lot – especially cross-country skiing (two years ago I even participated in 2 half-marathons). I hope you are enjoying your AuPair adventure and see you soon!
Rose – Event Husler in Utrecht
Hi there au pairs! My name is Rose. I'm a 21 year old biology student here in Utrecht. I have been an au pair twice and think I know the ins and outs of it now 😉 The one thing I loved about my experiences is the friends you make. I hope I can help you guys with that at the events!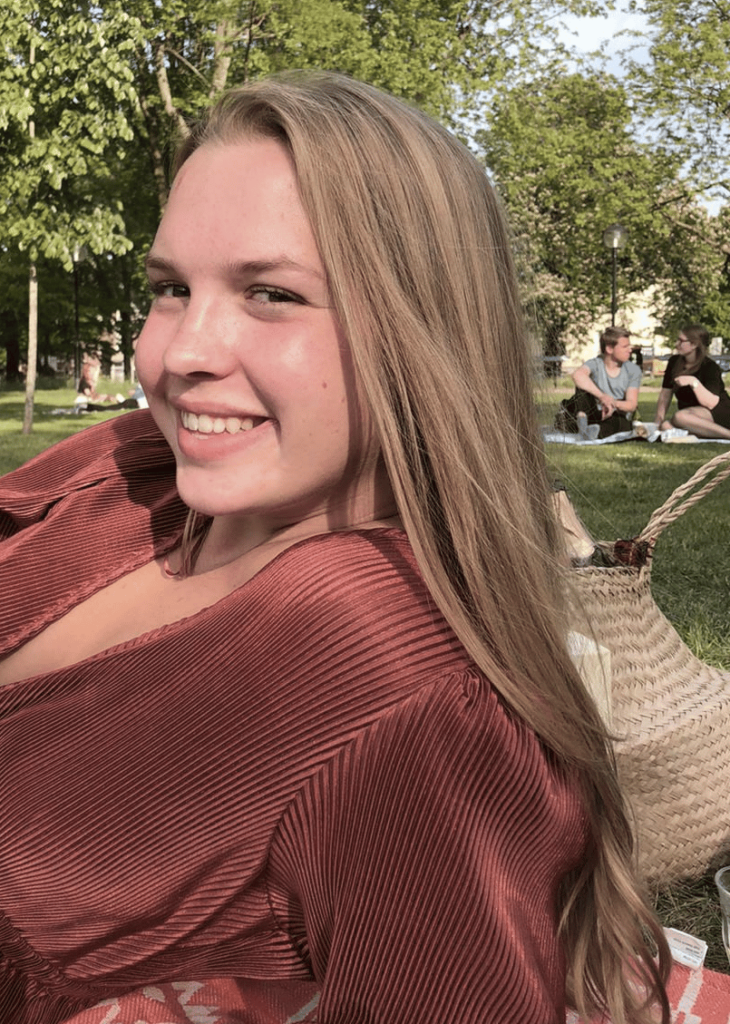 Sterre – Event Powerhouse in Utrecht
Hi au pairs! My name is Sterre, I am from Utrecht and am 23 years old. I love to play the piano, travel and cook and have also been an au pair, just like you guys! Recently I finished art school, so you can often find me in my studio, where I love to be creative and design my own jewelry. I also own the most adorable hippie van, covered in daisies, so if you happen to see me drive around town before we get to meet, don't hesitate to wave! 👋
Why do we organize events?
The reason why Nanny Nina organizes these events is that we want our au pairs to enjoy their au pair year in the Netherlands to the fullest, and we want you to experience new things and create friendships for a lifetime!