In some regions, the autumn break has already started, and the weather is helping. Many children now mainly want to play outside to jump in puddles or walk and play in the woods. Or do your host children prefer cozy indoor activities? Of course it's all possible! In this blog, we talk about fun activities that you can do with your host children during the fall. Read on quick!
Go outside
Put on the rain boots, because we're going outside! Especially with the typical Dutch autumn weather it is nice to undertake an outdoor activity. A forest walk cannot be missed.
Looking for beautiful leaves to dry or looking for chestnuts, all activities to make memories together. Make sure the kids wear clothes that can get dirty because by letting them stomp in puddles, let them lie in the leaves, or by letting them climb trees you can score points!
Did you know that you can roast chestnuts in the airfryer? View the recipe here!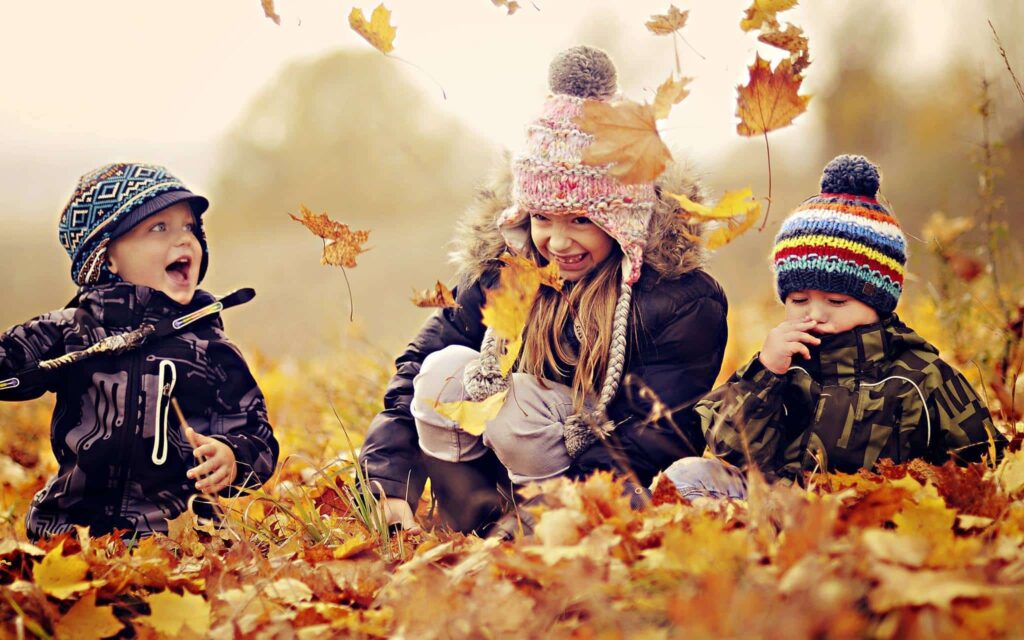 Zoo
In the Netherlands we have several zoos such as Artis, Burgers' zoo, Amersfoort Zoo, and Safari Park Beekse Bergen. In Safari Park Beekse Bergens you can explore the park by car, bus, or boat as well as on foot.
Take a look at the habitat of giraffes, elephants, zebras, and many other exotic animals that your kids have never seen up close. Afterward, you can have a quiet chat about this special adventure in the restaurant.
Gnome trails
Another fun activity to do with little gnomes is walking a real gnome trail. Together with gnomes from 32 forest areas, Staatsbosbeheer has set out a gnome trail for children aged 3 to 7 years. Together you can search for the traces that the real gnomes have left by means of assignments.
For €3.50 your gnome gets his or her own assignment sheet, a gnome hat and a gnome pin. Are you out with more gnomes? Then you can buy an extra gnome hat for €1.50. View the list of all gnome trails here.
Picking apples and pears
Autumn is the ideal time to pick apples and with a bit of luck, there will also be pears! And how nice is it to pick all that fruit yourself? Many locations are open for picking apples and pears from the beginning of September to the end of October, such as the Olmenhorst estate in Ommen.
After such a fun outdoor activity, you can enjoy a nice piece of fruit at home. Or you can continue the activity at home and bake an apple pie together from the apples you have picked yourself.
Candle holder
You probably still have a glass somewhere that you no longer use or a glass jar that once contained beans. This is perfect for making a candle holder in a specific theme, such as autumn!
Decorate the glasses or jars with paint, paper, glitter, or real autumn decoration that you can look for together in the forest. When the paint and glue have dried well, the candle holder is ready to be used. Ready to bring a cozy autumn atmosphere into the living room?
Decorating hot chocolate
Almost all of us have done decorating cupcakes, but have you ever thought about decorating hot chocolate? A fun activity if you and the kids love an extra challenge. Decorate the whipped cream with small marshmallows, sprinkles, speculoos, reeses, basically anything that makes you happy. Who has the best way to decorate the whipped cream on the hot chocolate before the whipped cream has melted? Ready, set, go…!
There is a lot to do both inside and outside and especially for children to discover, especially during the autumn (holiday). Hopefully, after reading this blog you will have enough ideas to get through the fall.
Autumn
As mentioned, autumn is a perfect time to get outside. Take a long walk in the forest or visit the zoo and enjoy the habitat of giraffes, elephants, and zebras.
Another fun activity is the gnome path where your gnome gets his or her own assignment sheet, a gnome hat, and a gnome pin. Ever thought of picking apples and pears or making your own candle holder? A final fun activity is decorating whipped cream with small marshmallows, sprinkles, and speculoos. Have fun!