Au pairing in the UK is an exciting adventure as the United Kingdom offers an abundance of rich history, arts and culture events, and scenic landscapes to explore. While you will find roots in your local area with your host family, it is fun to spend your free hours and holiday time exploring what the different countries in the UK have to offer.
London is one of the liveliest cities in the whole of Europe with a multitude of cuisines, cultures, neighborhoods, events, and activities to choose from. While it can't be fully explored in just the matter of one weekend, you can surely plan a full itinerary to make the most of your few days traipsing around what is one of my favorite cities.
Landmarks
London has one of the most iconic skylines in the world with landmarks like Big Ben, the London Eye, Buckingham Palace, and Tower Bridge scattered across the vast city. It's amazing to see these sights at a close distance rather than in a history book or Instagram post. Depending on the time of year you are going, they can be worth the visit and photo opportunity.
In the summer, the crowds can be so immense especially in front of Buckingham Palace that you might even question if a normal weekday afternoon is coronation day. If you're coming in busy tourist months, consider getting up a bit earlier to see these London spots before the huge crowds and tour groups rush in and dampen the experience.
At some of the landmarks, you can even go inside with a ticket to explore further. Some of these can be quite pricey like the London Eye which is 30GBP per ride, so maybe choose the one you are most interested in to experience up close. The good news is that museums are free in London, so it's a great way to learn more about the history and culture of the city without dropping all of your pocket money.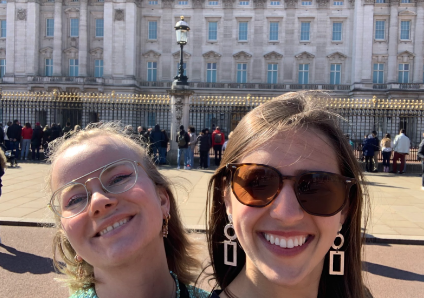 Markets
One of my favorite parts of London and something I always look forward to is the world-famous markets. Camden Market is probably the most well-known of the markets with winding lanes marked with stalls selling crafts, vintage items, clothing, and international goodies. In the busy seasons, it can become quite packed so I tend to only spend an hour or so there.
Borough Market is my favorite just on the other side of the Thames near Tower Bridge, and is a food-only market with more than 100 stalls selling a variety of quick bites and delicacies that are sure to make your mouth water. You could spend a whole day here just people-watching and trying different stalls while soaking in the best of London.
If you come late in the year, then the London Christmas Markets are sure to be a hit. With stalls of mulled wine, Christmas treats, and handmade crafts immersed in an atmosphere of twinkly lights and cheery music, you will certainly be feeling the holiday spirit.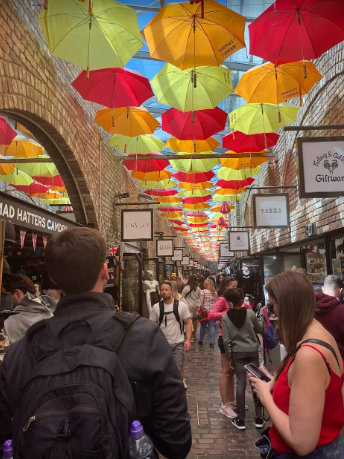 Shows
If you love a choreographed musical number as much as me then one, you have impeccable taste, and two, London is the city for you. With the highly regarded West End district in the center of the city, London has no shortage of choice when it comes to musicals and plays filled with brilliant staging and moving performances led by up-and-coming talent.
Every time I have been to London I have been lucky enough to see a show for myself and can definitely recommend Dear Evan Hansen, School of Rock, and Harry Potter and the Cursed Child wholeheartedly- although I'm sure anything you choose will be phenomenal. There are student discount tickets as well as reduced-price same-day tickets, so try looking into these options to find affordable seats for a show.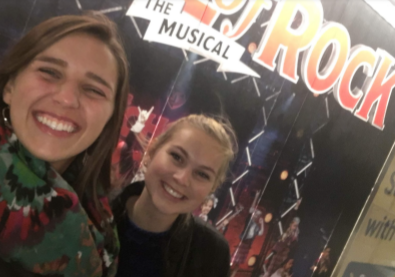 Parks
While London is a heavily urbanized city filled with an amalgamation of old and new buildings alike, the dedicated green spaces are a treat attracting both locals and tourists. I spend a lot of time in London parks as I find them to be the best representation of what the city actually looks like plus it's a peaceful reprieve from the bustling streets.
Hyde Park is an absolute favorite of mine right near the center of the city as it has quaint seating areas and cafes, ponds for paddle boating, and meandering pathways to stroll. During my most recent visit, I also happened upon a free art show right in the center of the park which was an unexpected treat. I highly recommend sneaking away to this green haven for an hour or two on your weekend in London.
If you do venture to Camden market one day, consider taking a 20-minute walk toward Primrose Hill in the north of the city. It's a great place for a picnic spot and has views over the whole skyline. Grab some snacks in the market and relax here for a while before heading back into the city.
I hope if you get the chance to visit London for a few days, you feel the magic of the city as much as I do. The great thing is, that there are so many options throughout the city of activities to do that you can customize your experience to suit your preferences and create a trip that is sure to be unforgettable!
For more information on how to become an au pair with Nina.care, check out this webpage. Are you a host parent looking to welcome an au pair into your home? Click here to find an au pair for your family or check out the rules and requirements for the au pair program in the UK. Stay tuned for more posts in our au pair in the UK travel guide!