Au pairing in the UK is an exciting adventure as the United Kingdom offers an abundance of rich history, arts and culture events, and scenic landscapes to explore. While you will find roots in your local area with your host family, it is fun to spend your free hours and holiday time exploring what the different countries in the UK have to offer.
Recently, I got to spend a little more than a week traveling through the rolling hills and bustling cities in Scotland and quickly fell in love with the country. I was awestruck by some of the most stunning natural views of my life, and I can't wait to share these hidden gems with you. If you enjoy a holiday with a combination of lively nightlife and peaceful, lush nature then I highly recommend planning your next trip to Scotland.
History
Scotland has a rich history filled with iconic battles (here's looking at you Braveheart), power struggles for the monarchy, fierce and notable woman leaders, and more than 500 clans aging over a millennium. While the tapestry of this country has changed enormously over time, the legendary landscapes, colorfully adorned kilts, and deep-running Scottish pride hold true.
During my travels, I was lucky enough to get to visit some of the historically-renowned castles in Scottish history including Stirling Castle outside of Edinburgh, which for many years was the center of government in Scotland over changing monarchs, and Edinburgh Castle in Edinburgh, which is one of the oldest fortified buildings in Europe and is the site where Robert the Bruce famously ordered the Scottish troops to damage the castle to make it less desirable for the English to take over.
If you are a history nerd like me, I definitely recommend checking out castles like these on a visit to Scotland as it helps bring context to the historic roots that make this country so unique. Try buying tickets ahead of time if you can to beat the lines and possibly score yourself a discount to save a bit of that well-earned pocket money, especially in busy seasons like summer when tourists may be more abundant.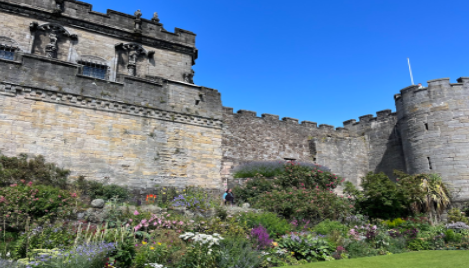 Cities
Scottish cities have about everything you could hope for when it comes to lively places in Europe. Cobblestone walkways, charming boutiques, street art and buskers vying to capture your attention, and live music in pubs on every corner. There is something here for everyone!
I started my trip in Edinburgh, the capital of Scotland, and made my way around the country to cities of varying sizes and offerings. Whether it was the coastal charm of St. Andrew's in the east, the serene local feel of Kenmore in the center of the country, or the gray yet bustling western harbors of Oban and Portree, we felt confident we could find a plate of fish and chips, a cold pint, and a friendly chat with a Scotsman just about anywhere.
While our time was limited in Scotland, there is so much more we could have explored so we did have to limit ourselves a bit on what we could see. I do recommend spending at least 2 days in a city if not more to get a real sense of what local life is like rather than just passing quickly through to tourist attractions only. Settle into the Scottish way and savor your time in each place!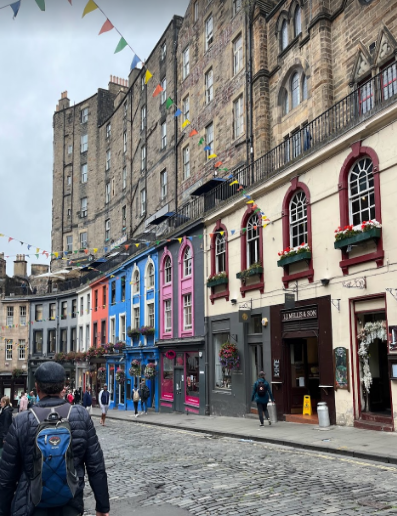 Nature
The cities in Scotland are readily accessible by trains and other public transport. Getting out into nature as with any country proves to be a bit trickier, but in my opinion, well worth the effort if you have time. If you have a driver's license as an au pair, consider renting a car for a day or two to explore the mountains, valleys, and lochs in the highlands. For those without a car, there are also scheduled buses that can take you to beautiful locations as well but just make sure to plan in advance timing-wise.
We visited Loch Tay, the Isle of Skye, and the Glencoe Valley during my trip and wow to say I was blown away is an understatement. Not only were the vistas breathtaking, but these natural areas had little to no people around- even in the peak summer season! We were able to take a 4-hour cycle without spotting another soul, and it felt like the surrounding wildflowers and wildlife were putting on a show just for us.
Some might feel hesitant to book a summer trip to Scotland as it is definitely not known for its warm sunny days, but if you can handle a light drizzle and the occasional wind gust, then you might just get what feels like the whole undiscovered gem to yourself. Just make sure to pack some good hiking shoes and insect repellent;)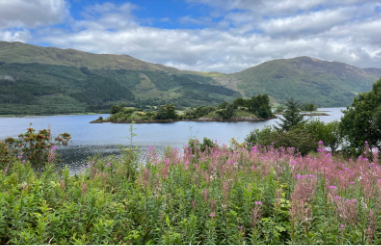 The people
An absolute highlight of my time in Scotland was, of course, the lovely people. If you are au pairing in the UK, you will quickly become accustomed to British banter and friendliness and there is just nothing like it. Strangers will smile at you on the street, locals will start up a chat in the pub, and friends will do just about anything to make your time in Scotland memorable.
For a few days on my trip, I spent time with one of my dearest Scottish friends and her parents too who showed me what true Scottish hospitality looks like. I felt so lucky to have native Scots giving us tips and tricks to maximize our trip to the fullest, and you can tell the pride for their country shone through in every recommendation.
Even with my own reluctance and slight chagrin, I was convinced to participate in a Ceilidh dance on one of our last nights, which is a traditional choreographed group dance led by a fiddle player, an accordion, and a caller. Even though I was a bit unsure at first, I ended up having a blast and was glad that I pushed myself out of my comfort zone to experience the Scottish culture to its fullest.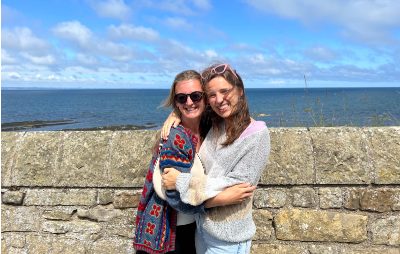 So, if you ask me if I want to return to Scotland for even more of what this beautiful country has to offer? The answer has to be a resounding, "Aye, lassie!" and I, of course, recommend that you do the same.
For more information on how to become an au pair with Nina.care, check out this webpage. Are you a host parent looking to welcome an au pair into your home? Click here to find an au pair for your family or check out the rules and requirements for the au pair program in the UK. Stay tuned for more of our au pair in the UK travel guide series!