Au pair Elsha in the Netherlands: "Au pair may sound strange to you, it is actually a cultural exchange program. I became an au pair in the Netherlands this year. A dream that I thought would never come true."
My au pair experience
Even though I am fairly new to being an au pair, I want to share some of my experiences. Early 2022, I set foot in the Netherlands. It was like a dream, I finally went to the continent of Europe. By myself. It feels good.
The very cold Dutch weather became the first challenge, because it was winter. My host family is very kind and provides a comfortable place. I got a nice room. I already know that in the Netherlands, eating bread is very common. With a different sense and taste (I am typically Asian food addict) I tried to adapt quickly. Now I'm used to eating bread.
Working with kids
Playing with my host kid is really fun, yet challenging. The biggest challenge is language. Body language is very helpful for understanding each other. In addition, accepting new people for a young kid may be difficult and requires a more sophisticated approach. My host family supports me in taking a Dutch language course as an au pair too.
I have to be able to entertain her as well as be her playmate. We usually cook together and play in the park after picking her up from school. Making Bakmi (noodles) is a fun choice, if the weather outside is cloudy or rainy. I have to think about what to play so that I can entertain and please the children. Give flour, make dough, and get dirty together. Yay! Cooking for the rescue. This is a photo of me making noodles with my house kid. A little messy, but it's ok.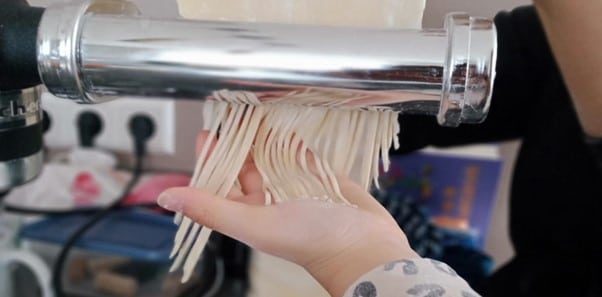 The weather in the Netherlands is very unpredictable. The rainfall is quite high. So when it's sunny, I usually take the kid to the park. Look at the flowers in bloom in the photo beneath. This was taken in March. Spring is coming! This is a pretty easy approach. Quality time together. It was fun enjoying the sun, running, and playing outdoors with the kid. I hope the weather in the Netherlands will be quite nice in the days to come.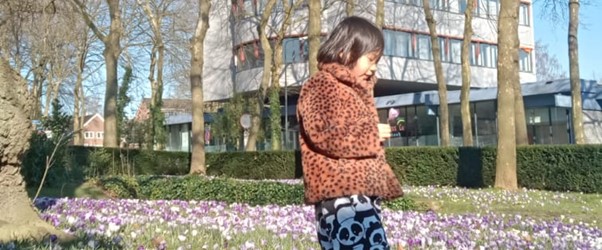 Meeting friends in a country you don't know
I also met a lot of new friends. The au pairs who had started before me, shared their experiences and gave some tips to get closer to the kid and my host family. Lots of funny and also sad stories. Living in a new place is not easy. But I'm so grateful to have met good people. It's amazing!
It turns out that in this world, it's not just me who has a dream to become an au pair. Lots of people! And I'm grateful to be one of them. I often meet friends on weekends. My host family gave a train card which is free to use during the weekend. We explore the Netherlands every weekend. Eat together and enjoy the beauty of the Netherlands. Besides exploring the Netherlands, my friends and I also explored neighboring countries. The Netherlands is located between Belgium and Germany, so I can explore other countries as well.
What the au pair adventure has taught me
Being an au pair changed me a lot, to be more independent and more responsible. Far from the people who control our lives, and finally I really have control over my own life. Besides that, I've become more quick-thinking and able to make decisions, I make decisions based on instinct and of course have the courage to take responsibility. The direct Dutch culture sometimes surprises me. But I'm getting used to it.
About the Nina.care au pair team
I had a hard time at the beginning of my arrival, but luckily Nanny Nina's agency was always there to help. Give me advice and tips. Help me to be even better. After three months in the Netherlands, I was finally able to adapt and learn new things. Get out of my comfort zone and try to be my best as an au pair.
I remember very well, when I arrived in the Netherlands I got a package from Nina.care, and it contained several welcome gifts for me because I had arrived in the Netherlands. I was touched and happy. Thank you for always being there, Nina.care team.
Register as an au pair
Does this adventure sound exciting? Register as an au pair here, and we'll see if we can find an amazing family for you. Need more information? Check our au pair page.